One of the most obvi­ous ben­e­fits that we can pro­vide as Peace Corps vol­un­teers is Eng­lish teach­ing. This is also clear­ly an empha­sis for the orga­ni­za­tion, and that is no excep­tion here in Mex­i­co, even though in Tech Trans­fer, we are almost exclu­sive­ly "spe­cial­ists" with a vari­ety of tech­ni­cal assign­ments. A few were giv­en Eng­lish teach­ing projects. Nev­er­the­less, through­out pre-ser­vice train­ing, we were both pre­pared and encour­aged to teach Eng­lish in a vari­ety of forms, depend­ing on what our cen­ters need.
While teach­ing Eng­lish was rec­om­mend­ed as an excel­lent site-inte­gra­tion tech­nique, we were also warned to tread care­ful­ly in the ini­tial 3 months. So, half-mind­ing this  advice from train­ing to ven­ture slow­ly, I ran blind­ly into a slight polit­i­cal sit­u­a­tion at my cen­ter, but my charg­ing ahead also enabled me to move more quick­ly to get my Eng­lish class start­ed. I had so much inter­est expressed to me by the grad­u­ate stu­dents at the cen­ter that I did­n't want to wait and risk hav­ing my promise of course seem empty.
This is my first time teach­ing Eng­lish. I did­n't want to jump into a for­mal Eng­lish or TOEFL course, and this aligned very well with the stu­den­t's expressed need to prac­tice speak­ing in Eng­lish. So, I decid­ed to go the route of a con­ver­sa­tion course. There is still plen­ty for me to plan for each class ses­sion, but it is also a much freer cur­ricu­lum where I can have the course par­tic­i­pants moti­vate the top­ics that we cov­er. Then, I can plan the class ses­sion struc­ture and bring in use­ful vocab­u­lary and "facil­i­tate". I have to put that word in quotes. Any­one that went through a PST sim­i­lar to what we expe­ri­enced here in Mex­i­co will sure­ly under­stand. We've got great resources for plan­ning class­es with adult learn­ers, and I'm feel­ing that PST was actu­al­ly use­ful in this case. I'm very inspired for orga­niz­ing my class with a mix of activ­i­ties that not only hold their atten­tion but also keep them engaged. Â What I have are plans now, so we'll see how it goes. I prob­a­bly have a bit of new­com­er's excite­ment for this whole process after my first class yes­ter­day. When I have a week where only 2 stu­dents show up, I'm sure some of the shine will wear off.
So, I held my first hour-long Eng­lish con­ver­sa­tion class yes­ter­day. I was very excit­ed to get start­ed for a num­ber of rea­sons, includ­ing wanting/needing more to do and expect­ing that I would enjoy teach­ing the class. My expec­ta­tions were sur­passed, and I am left with a huge feel­ing of relief and sat­is­fac­tion. These first 7 weeks in the office have been a bit rough.
I was col­lect­ing respons­es to my call for class par­tic­i­pants for a lit­tle over a week. In total, I had 15 peo­ple say that they would like to take the course. Of course, this was no guar­an­tee of the num­ber of peo­ple who would show up for the first class. ´Therefore, I was very sat­is­fied with the 7 peo­ple who did show up for the first class. I meant to bring my real cam­era to doc­u­ment the occa­sion, but I for­got it. For util­i­ty, my ipod cam­era is per­fect to doc­u­ment the lists we wrote on the board, but the images are artis­ti­cal­ly underwhelming.
We start­ed the class with intro­duc­tions and some logis­tics. Then we moved on to the main top­ic of the first class — strate­gies for a con­ver­sa­tion class. After dis­cussing the rea­sons for not prac­tic­ing the lan­guage you are learn­ing, we wrote lists of strate­gies for the learn­ers, the teacher, and the class. This turned out to be a good exer­cise that not only got every­one talk­ing and writ­ing, but gives me tips and ideas for future classes. I think it is use­ful that I am an ongo­ing lan­guage stu­dent, because I can relate to every­thing we dis­cussed about why lan­guage learn­ers don't speak.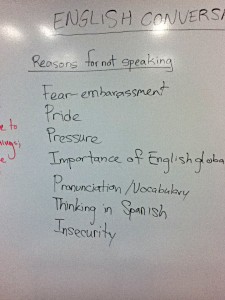 And, I also need to fol­low their advice for my Span­ish learning.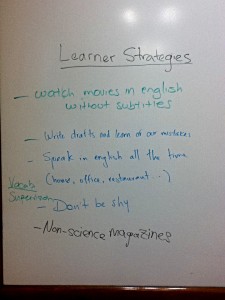 For the teacher strate­gies, I can use all the tips that I can get.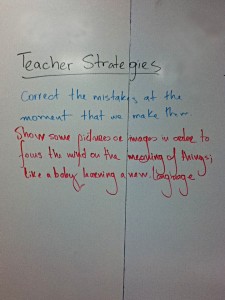 Our final list has strate­gies for the learn­ers to use for and dur­ing class. This list turned out to be a per­fect tran­si­tion into the class con­clu­sion, because the final sug­ges­tion was my planned home­work assign­ment for next week. They assigned their home­work for them­selves. That has to be an inter­me­di­ate or advanced teach­ing technique.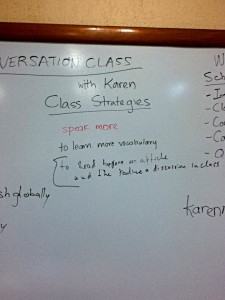 With­out mak­ing this any longer and try­ing to sum up my incred­i­bly reflec­tive thoughts after 1 day of teach­ing, I think this is enough of a sum­ma­ry. Hav­ing the class to pre­pare for is great, but I'm also glad that I still have time to write long blog posts in the morn­ing in the office.