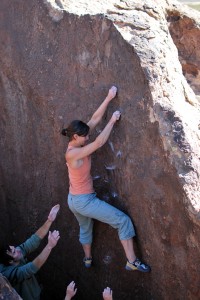 IÂ browse a lot of oth­er blogs by Peace Corps vol­un­teers and appli­cants. What has struck me recent­ly is the mis­di­rec­tion of the rhetoric sur­round­ing the ques­tions to con­sid­er when apply­ing or as you are apply­ing. I'm writ­ing this over a peri­od of time to ensure that this is not just a long series of com­plaints, but these are issues that have been on my mind late­ly. Actu­al­ly, I've put this down for so long that I'm approach­ing pro­cras­ti­na­tion, so I'm tak­ing anoth­er crack at it. I'm just past 6 months in coun­try, and I con­tin­ue to believe that Mex­i­co is a very dif­fer­ent Peace Corps expe­ri­ence. Still, there must be some sim­i­lar­i­ties in the PC expe­ri­ence. A caveat, how­ev­er, because next week is Ear­ly In-Ser­vice Train­ing for my group and because I had some long car rides recent­ly with a cap­tive audi­ence, this is me on my soap box.
That being said, I do want to empha­size some of the pos­i­tives right away here. I have met a lot of peo­ple here in Mex­i­co whom I real­ly respect, and I am very hap­py to have the chance to work with and learn from them. These are amaz­ing peo­ple, vol­un­teers, whose opin­ions about ser­vice I would like to hear. I think I could use a per­spec­tive change. Since I expect some skim­ming of this very long post, I want to put my solic­i­ta­tion here at the begin­ning. I would like oth­er vol­un­teer's essays on ser­vice — any thoughts that you would like to share. I would real­ly like to cre­ate a col­lec­tion of essays from guest authors here on my site. I think that I could ben­e­fit from out­side per­spec­tives, espe­cial­ly in writ­ten form where I don't have a chance to inter­rupt, because as a group we talk about PC-relat­ed expe­ri­ences a lot, but I am an inter­rupter and I could also ben­e­fit from not hav­ing the chance to inter­ject. My cohorts here in Mex­i­co know how to con­tact me, or there is the "Con­tact me" link at the bot­tom of my homepage.
Back to the rhetoric, the ques­tions nor­mal­ly posed are ones like:
1. Are you independent?
2. Are you open-minded?
3. Are you flexible?
4. Are you self-motivated?
5. Can you give 27 months of ser­vice to a devel­op­ing country?
6. Are you look­ing for a unique adventure?
In my opin­ion, these ques­tions are not nec­es­sar­i­ly wrong, just over­ly sim­plis­tic. I would like to address these ques­tions, and I pro­pose adding addi­tion­al ques­tions such as:
1. Can you tol­er­ate failure?
2. Can you tol­er­ate boredom?
3. Can you stand up for your­self when it is uncom­fort­able and awkward?
4. How do you feel about bureaucracy?
5. How are you with the whole self-doubt thing?
My pro­posed addi­tions are not entire­ly nov­el, and have been iden­ti­fied by plen­ty of peo­ple before me. I'm writ­ing this because I've been feel­ing the need to address the nature of this ser­vice. I would also like to con­sid­er both what I have been learn­ing and how I could have been bet­ter pre­pared for ser­vice. I'm hop­ing that by extend­ing my ques­tions in these direc­tions I can redi­rect my per­spec­tive away from just com­plain­ing. So, to orga­nize my thoughts, I'm going to address the stan­dard ques­tions and how they relate to my additions/extensions:
1. Are you independent?
While there is plen­ty of inde­pen­dence asso­ci­at­ed with being a vol­un­teer, there are also quar­ter­ly reports to file, on-going train­ings, and the respon­si­bil­i­ty of this being a peri­od of ser­vice which all put a frame­work around your inde­pen­dence. I am a big cham­pi­on of the inde­pen­dence at my work site — or, bet­ter put, the inde­pen­dence to work on sec­ondary projects away from my work site. How­ev­er, this is also why I pro­pose the ques­tion about tol­er­at­ing fail­ure. The inde­pen­dence to find your own projects is tem­pered by the recog­ni­tion that every­thing you attempt may fail. You are one per­son in a sit­u­a­tion where you may not be respect­ed, no mat­ter how good your inten­tions or expe­ri­enced your back­ground. I believe that the Peace Corps goals indi­rect­ly address this issue, because the three main goals are not actu­al­ly about actions chang­ing the world, but about being present and com­mu­ni­cat­ing your expe­ri­ences. Two years of being present in a place are much less sat­is­fy­ing than doing some­thing, any­thing, which is also why you also have to be tol­er­ant of boredom.
How­ev­er, to extend this to some­thing that I have learned, it is incred­i­bly free­ing to be a vol­un­teer, and be able to give one of the most valu­able resources — time. By not look­ing for or expect­ing repay­ment for my ser­vices, I have come to see that hav­ing time to give to all the projects that I can find is a resource that peo­ple need. By giv­ing your time, you can do the things that peo­ple with jobs don't have time to do or need help doing. Not expect­ing acco­lades or recog­ni­tion goes along with this, and I also find it very free­ing to not be seek­ing acknowl­edge­ment for every activ­i­ty. Mon­ey is also an incred­i­bly impor­tant resource, and I'm start­ing a grant pro­pos­al with anoth­er friend and vol­un­teer for a water-con­ser­va­tion project oppor­tu­ni­ty, so I will have more to say about that in the future. I expect this les­son about giv­ing my time to stick with me, and I sup­pose, if forced to admit it, that Peace Corps ser­vice has already been use­ful for teach­ing me this aspect of the nature of service.
2. Are you open-minded?
This ques­tion is unnec­es­sary, because I don't think that you would be con­sid­er­ing Peace Corps in the first place if you were not open-mind­ed. Cul­ture shock, blah, blah, blah. You will be tol­er­ant of some things, think that some things are great, think that some things are wrong. There is a dif­fer­ence between cul­ture adap­ta­tion and main­tain­ing your beliefs. Even reread­ing this part, I don't know how to con­tin­ue, because this ques­tion just seems so unnec­es­sary for the appli­cant pool. I'm sure there are aspects to this ques­tion that I am not con­sid­er­ing, but it just does­n't seem to make it on to my "con­cern radar" like the oth­er questions.
3. Are you flexible?
This relates to the ques­tions of inde­pen­dence and bureaucracy. First, this issue usu­al­ly extends to over­all liv­ing con­di­tions. Liv­ing in Mex­i­co, this aspect is prob­a­bly much more sep­a­rate for me than for vol­un­teers in small, rur­al com­mu­ni­ties both here in Mex­i­co and in oth­er coun­tries. I can't real­ly speak to that, except to say that I am real­ly enjoy­ing blog­ging, so I am glad to have fair­ly decent inter­net at home. As I wres­tle with my dis­sat­is­fac­tion at my pri­ma­ry post, I try to believe that tak­ing pho­tos, improv­ing my craft, and shar­ing my expe­ri­ences in con­nec­tion with goal 3 are as impor­tant as the actu­al work, but I'm also not sure that I real­ly believe that.
I am tak­ing advan­tage of the flex­i­bil­i­ty of being a vol­un­teer to pur­sue projects and oppor­tu­ni­ties that I find ful­fill­ing, but I also strug­gle with a feel­ing of oblig­a­tion to the sci­en­tif­ic cen­ter where I am assigned. They are pay­ing for me — for my back­ground and expe­ri­ence I guess, but there is a dis­con­nect between our ideas of how I can be valu­able. So, I have put myself into some awk­ward sit­u­a­tions at work, and I fore­see more, because maybe I have a bit too much of the inde­pen­dence thing. I start­ed teach­ing an Eng­lish class with­out the expressed sup­port of the high­er-ups, and I think that I am still glad that I did it. That, along with try­ing to get involved with sev­er­al sec­ondary projects away from the office every week, have left me feel­ing that I am going to have to make a com­pro­mise and play along with the major project idea in which they would like my involve­ment. Over­all, not a lot of fun to be feel­ing caught, and maybe I can con­tribute for a while and then con­tin­ue to tran­si­tion my pri­ma­ry project toward activ­i­ties that are more inter­est­ing to me. I've heard from oth­er vol­un­teers that they have done this, with­out tak­ing the dras­tic step of chang­ing sites (or cen­ters for us in Tech Trans­fer). Still, there is not nec­es­sar­i­ly a huge feel­ing of sup­port in these mat­ters. I have expressed my frus­tra­tion at being placed at the one type of job that I specif­i­cal­ly said I was try­ing to get away from dur­ing my final place­ment inter­view, but I have yet to feel heard and instead feel like a bit of a pariah.
When con­sid­er­ing sup­port, per­son­al respon­si­bil­i­ty is very impor­tant in Peace Corps, because the tra­di­tion­al mod­el is that you are pre­pared dur­ing train­ing to be dropped off at a poten­tial­ly iso­lat­ed site and have to fig­ure out how to make your way. PC is respon­si­ble for iden­ti­fy­ing your site, estab­lish­ing con­tacts, and pro­vid­ing a cer­tain amount of infor­ma­tion resources to try to pro­vide you with a suc­cess­ful expe­ri­ence. How­ev­er, when the real­i­ty in-site is dif­fer­ent, it can be dif­fi­cult to find a bal­ance between per­son­al respon­si­bil­i­ty and find­ing sup­port from the PC staff. Oth­er vol­un­teers are a sup­port sys­tem, but of a dif­fer­ent nature. Peo­ple do move sites for non-secu­ri­ty rea­sons, and I would be very inter­est­ed to hear about some­one's expe­ri­ences chang­ing pri­ma­ry assignments.
Addi­tion­al­ly with flex­i­bil­i­ty, I wish that I had been aware of the com­plex­i­ty of this issue before begin­ning ser­vice. Peace Corps asks you to be flex­i­ble in many aspects of your ser­vice. How­ev­er, I think they are hid­ing a bit behind the word flex­i­bil­i­ty. In Peace Corps, you will be assigned to a pro­gram, receive three months of pre-ser­vice train­ing cen­tered around that pro­gram, and be expect­ed to work with­in that program. I believe that this issue is exac­er­bat­ed here in Mex­i­co because the Tech Trans­fer pro­gram is so lim­it­ed in scope, so maybe this is not even real­ly an issue in for oth­er PC pro­grams in oth­er coun­tries. I know that it is part­ly my fault for not inves­ti­gat­ing the pro­gram ful­ly before accept­ing. How­ev­er, I did­n't know what ques­tions I should have asked. For instance, I was unaware of the extent to which my CV was going to be used to place me, because I would have pre­sent­ed a dif­fer­ent image of myself had I known. Then, when I received the invi­ta­tion, I was too excit­ed to ask any fur­ther ques­tions about "What is Tech Trans­fer in the Peace Corps?" and the more spe­cif­ic nature of the assign­ments. Now that I think back to my PC Mex­i­co inter­view, there were warn­ing signs, because I was press­ing for exam­ples of what vol­un­teers had done in the past, but it was very hard to get answers. One take-away from this is that I would say it is impor­tant to care­ful­ly con­sid­er your assignment.
4. Are you self-motivated?
This just seem­s repet­i­tive. If you are inde­pen­dent and got off your guff to start/continue/finish the appli­ca­tion process, then you are plen­ty self-moti­vat­ed. Besides, maybe you won't have to be self-moti­vat­ed. Maybe you will be dropped into a well-estab­lished project where you can best serve by con­tin­u­ing some­one else's work. Also, maybe there is a lit­tle too much self-moti­va­tion in the Peace Corps. It seems that we re-invent the wheel many times because we are just lack­ing meth­ods for shar­ing best prac­tices. The most suc­cess­ful and reward­ing expe­ri­ences that I am hav­ing are work­ing on projects with oth­er vol­un­teers. We are our own best resource, espe­cial­ly here in Mex­i­co with all these damn experts. I am moti­vat­ed to find a place for myself in the projects that I find inter­est­ing. So, I'm try­ing to use my PC ser­vice to learn how to shove myself into projects when I was­n't nec­es­sar­i­ly invit­ed. So, that is anoth­er aspect of what I mean when I ask about putting your­self in uncom­fort­able situations.
Two years go quick­ly, I think I have to jump and all the oppor­tu­ni­ties in which I see poten­tial. Hope­ful­ly, I am exag­ger­at­ing a bit when I say that I am shov­ing myself into oth­er peo­ple's projects, but it is immense­ly reward­ing when I find that I can con­tribute. Also, you have to move quick­ly in Peace Corps because two years goes quick­ly and oth­er vol­un­teer's two years can go even more quick­ly when you don't even meet them until they are 6 months from their Close of Ser­vice. I have been find­ing that I want to suck all the knowl­edge that I can from the oth­er vol­un­teers that I meet before they leave. Or, I learn that I nev­er had the chance to meet some­one who had some won­der­ful projects. That is frus­trat­ing. Still, I am hav­ing over­all pos­i­tive expe­ri­ences in this cat­e­go­ry, and I think that I am gain­ing self-con­fi­dence in my wide-rang­ing abil­i­ties and hope­ful­ly learn­ing new ones, which is some­thing that I hoped to get out of service.
5. Can you give 27 months of ser­vice to a devel­op­ing country?
You can leave at any point. I con­sid­er leav­ing every day. For me, this seems to have just become a fact of life. How­ev­er, there is a rea­son that this is also called ser­vice. I'm sure there is an amaz­ing sense of sat­is­fac­tion to make it through the two years, and I hope to make it to that point. Also, there is the recog­ni­tion that while the coun­try direc­tors like to have a high vol­un­teer reten­tion rate, no one will get on their knees to beg you to stay. PC tries very hard to pre­pare you for lone­li­ness and miss­ing your loved ones. I have no cri­tiques about this prepa­ra­tion, and I can only say that, of course, the feel­ings are very real, but tol­er­a­ble. I am miss­ing my guy a lot, but that by itself is not what has me think­ing about leav­ing. One impor­tant aspect of this ques­tion for me is that I still don't know what I would be going back to do. I joined PC in a large part to tran­si­tion the direc­tion of my career, and I still have no clear idea of what I would like to be doing. So, I end up cir­cling back to the ques­tion of flex­i­bil­i­ty and using this time to explore many opportunities.
6. Are you look­ing for a unique adventure?
There are many types of adven­tures, and many ways to give back. Peace Corps is one way to do these things, which has advan­tages and dis­ad­van­tages. It has been point­ed out to me that I may, per­haps, be a bit cyn­i­cal about PC, but I'm here try­ing to make a go of it. Updates as ser­vice con­tin­ues. Next week is Ear­ly In-Ser­vice Train­ing, which I'm main­ly hop­ing isn't a week of bitch­ing and then giv­ing feed­back about how the bitch­ing, and new strate­gies for elic­it­ing bitch­ing, went. At this point, I'm not sure that I am one of the 98% that would rec­om­mend Peace Corps to my friends and fam­i­ly, but I also would­n't say don't do it. That ser­vice is com­plex is my point with this essay, and I would feel the need to have a con­ver­sa­tion (and I am hav­ing these con­ver­sa­tions fre­quent­ly) with inter­est­ed people.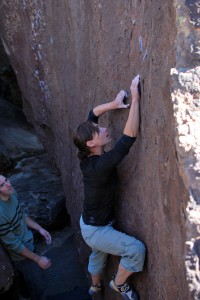 Since I have to post pic­tures with all posts, I found the pic­ture at the start of the post and the fol­low­ing one to book­end my thoughts here. I think of them as: (1) How to hang on, and (2) What am I reach­ing for?