I'm not doing any­thing fan­cy, but hav­ing my first guests has moti­vat­ed me to fin­ish a few of the home-improve­ment projects that I had start­ed — main­ly get­ting plants and straight­en­ing up. So now I have a few plants, but they aren't com­plete­ly pot­ted into good recep­ta­cles. Â I still have to go buy anoth­er pil­low after work today, but I have enough plates, bowls, and linens for every­one. Well, almost enough, because since I'm hav­ing 2 guests, one of them has to bring an extra pil­low and tow­el. I have 2 of every­thing except in the kitchen where I have 4 because I don't want to have to do dish­es as often as only hav­ing 2 of things requires.
My table looks much nicer with the books cleared off and a flow­er­ing christ­mas cac­tus in their place.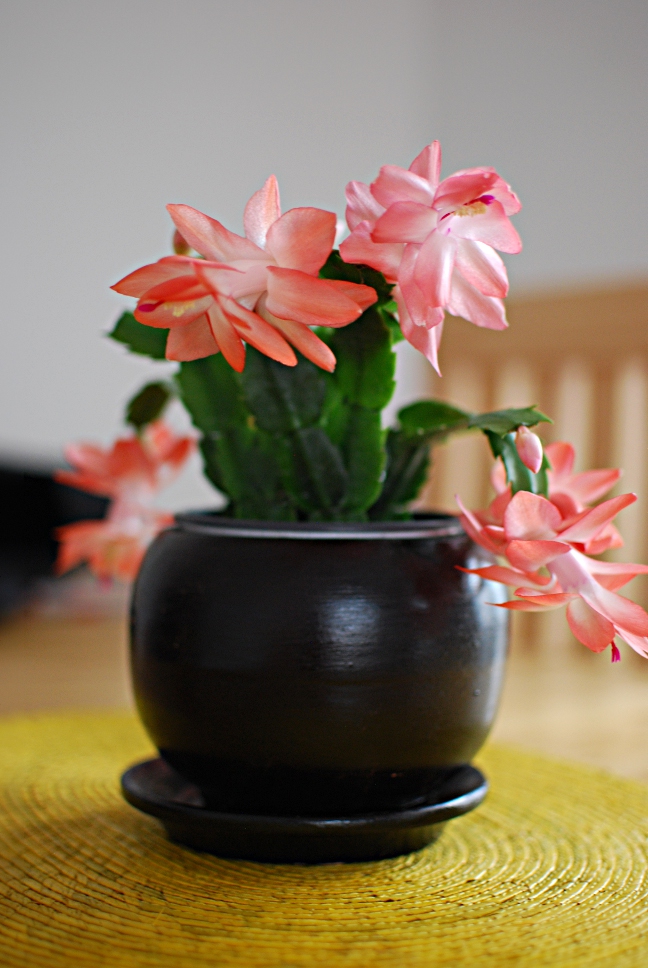 Peo­ple are com­ing into town for the race that a bunch of us are run­ning in this week­end. A cou­ple of vol­un­teers got funds to spon­sor our entry into the race as a Peace Corps 50th anniver­sary event, so we will run in PC shirts as pro­mo­tion. I'm run­ning the half-marathon, and I'm a bit ner­vous.  I think that I am ready, but it will be only my third half-marathon (and third race). Since I've been train­ing pret­ty well, I want to do well in the race for myself. There is no deny­ing my com­pet­i­tive nature, even if it is just against myself. I've cursed my sign­ing up for the event at var­i­ous points dur­ing my train­ing, but of course I have enjoyed the train­ing. Now to enjoy the race as well.