I have my appoint­ment with the health depart­ment to dis­cuss and pre­sum­ably start treat­ment for latent TB lat­er this week. Mean­while, I picked up the blood test report, and the nifty CD with my dig­i­tal chest x‑ray on it. Â I also had a nice con­ver­sa­tion with a Peace Corps Nurse, and for­mer PCMO, in the Office of Med­ical Ser­vices about my diag­no­sis and treat­ment. We talked about how there aren't a lot of TB cas­es com­ing out of Mex­i­co. I just won the lot­tery. She was par­tic­u­lar­ly inter­est­ed if I had been liv­ing on my own or with a host fam­i­ly the whole time. She saw much more TB in Asia because many of the Vol­un­teers stayed with host fam­i­lies for all of their ser­vice time, where TB can be rampant.
The latent TB Â treat­ment is actu­al­ly free of charge in Texas, but I'm going to get start­ed on the process of fil­ing my "Notice of Occu­pa­tion­al Dis­ease and Claim for Com­pen­sa­tion" with the US gov­ern­ment so that it is def­i­nite­ly on record that Peace Corps is respon­si­ble if I have prob­lems in the future. I should not have future issues after the treat­ment, but I'm def­i­nite­ly get­ting all this filed and on record.
I *guess* I under­stand why keep­ing peo­ple from devel­op­ing TB is impor­tant, but it is a bit shock­ing to me that treat­ment of 9 months of chemo­pro­phy­laxis is com­plete­ly free. Mean­while, a friend that moved from Col­orado back to this state 4‑months preg­nant can't get cov­ered, because preg­nan­cy is a pre-exist­ing con­di­tion. Craziness.
My x‑ray med­ical report reads,
IMPRESSION: Nor­mal chest.
This time, I'll take it.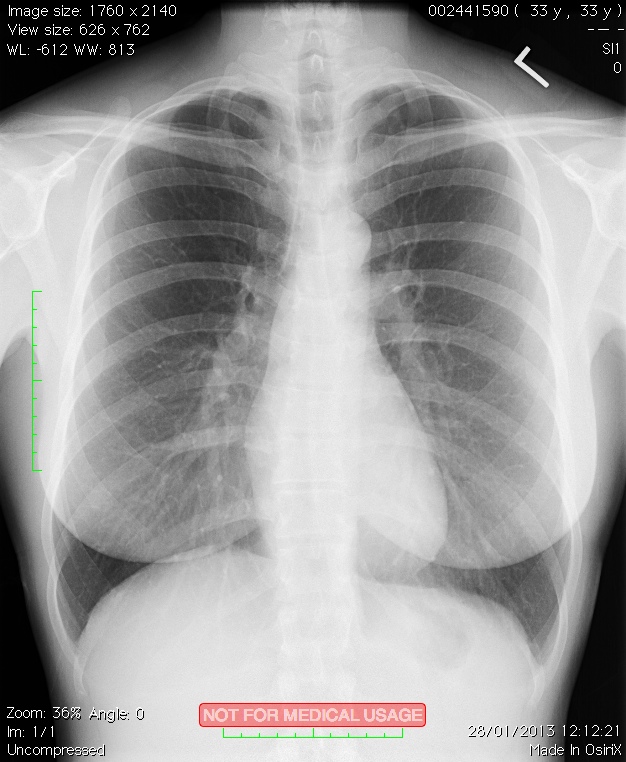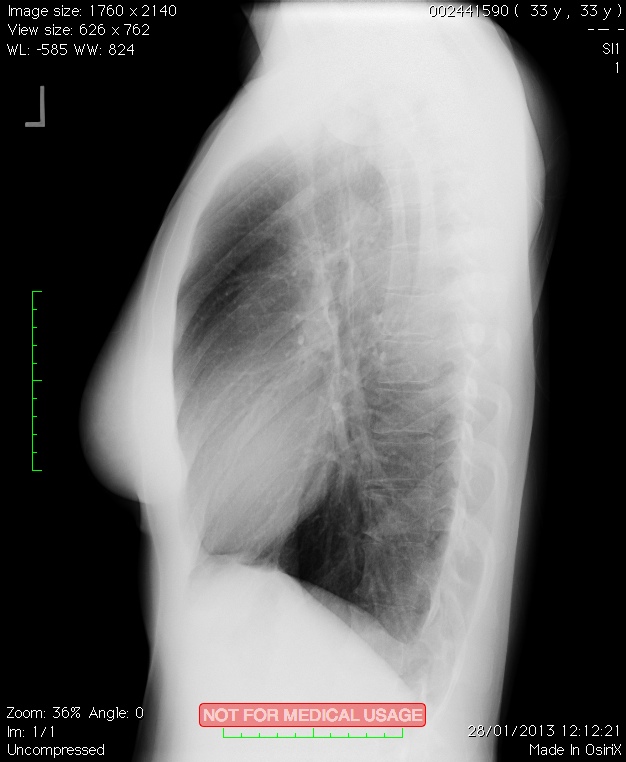 So cool. Look at that rib struc­ture, spine too! tee­hee, tech­ni­cal­ly it is a top­less pho­to of me. The only one that will ever appear of me on this web­site, and hope­ful­ly the whole web.
Actu­al­ly, the report also reads "The heart, lungs, medi­astinum, pleur­al spaces, and pul­monary vas­cu­la­ture are with­in nor­mal lim­its," but that was­n't as funny.