As the days speed by towards half-way through my INH treat­ment, I have been feel­ing that it is time for an update. How­ev­er, I have noth­ing to report for myself. I have no iso­ni­azid side effects and my month­ly refill vis­its to the Texas Health Depart­ment have been so easy as to be near delight­ful. After an errant...
Can't you just see it? Makes per­fect sense, does­n't it? I'm a rock­star at mind-map­ping. Def­i­nite­ly need to add that to the résumé. Now I have to find the time to sit down and actu­al­ly do the redesign. The idea is that by post­ing this, I have to hold myself account­able to it. We'll see how well it works.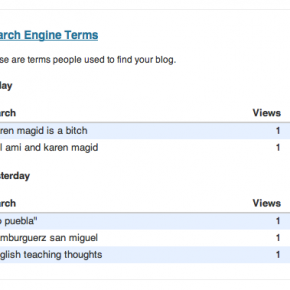 And I was a bit dis­turbed. How and why was this search term what led some­one to my blog? I don't know why it took me so long to turn to Google Ana­lyt­ics for the answer, but I final­ly did yes­ter­day. Then, I geeked out on my num­bers for an hour, because the cus­tom reports are now one of my...