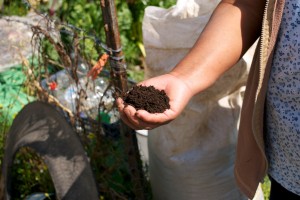 I'm work­ing with a great team of for­mer Peace Corps Vol­un­teers and MIT stu­dents on a new non-prof­it. We were select­ed as semi-final­ists in a com­pe­ti­tion to win up to 0,000, which would get us off the ground. Mak­ing it from the top 20 to the top five requires social mar­ket­ing, because the com­pe­ti­tion is host­ed by Face­book, but spon­sored by Intel. Could you please spend five min­utes help­ing us advance to the finals by sup­port­ing us on Facebook?
If you have the time, I would great­ly appre­ci­ate it if you could help me out real­ly quick­ly by donat­ing points to my team "Opti­mis Modis" in the Intel Inno­va­tors Com­pe­ti­tion on Face­book by Decem­ber 28th!
Direc­tions:
Go here (link removed)
Click start, allow the app, fol­low the instruc­tions, and invest points in the Pitch Room.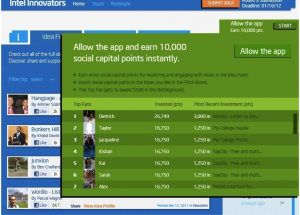 Thank you very much for your sup­port! If you have any feed­back on how the process goes, I would love to hear it. Please leave a com­ment below or use the "Con­tact Me" link on my homepage.If you're inter­est­ed in the goal of the non-prof­it, here it is: We want to share best-prac­tices between non-prof­its. The idea came out of the recog­ni­tion that many Peace Corps Vol­un­teers strug­gle to be effec­tive dur­ing their first year of ser­vice, sim­ply because they are fig­ur­ing out how things work, and what real­ly needs to be done. Of course the Peace Corps has worked around the world for 50 years, most­ly in the same kinds of programs…so why are so many PCV's rein­vent­ing the wheel? With today's free tech­nolo­gies, there is no excuse that those lessons-learned can't be shared between indi­vid­u­als and orga­ni­za­tions work­ing to make a dif­fer­ence. That is what we hope to do. If we help the aver­age
PCV
accel­er­ate their learn­ing curve from nine months to six months, the result would have a mas­sive impact, and that's just with­in one devel­op­ment organization.
Our orga­ni­za­tion is called Opti­mis Modis, which is Latin for best practices.
Thank you for spend­ing a few min­utes help­ing us real­ize our goals!