With trep­i­da­tion I went to the Fes­ti­val Inter­na­cional Sal­va el Diente this week­end out­side of Guadala­jara. After a late arrival, I was­n't sure how I was going to be feel­ing for the 10k trail race ear­ly on Sat­ur­day morn­ing, but I just want­ed to run as a part of my marathon train­ing (which is only three weeks away!). I wel­comed the oppor­tu­ni­ty to run on trails, out­side of the city, away from the crazy traf­fic and side­walks, and not one of my nor­mal routes. I think my expe­ri­ence run­ning down moun­tains to catch the bus in Switzer­land and dodg­ing a bit of every­thing on the side­walks in town made me well-pre­pared for the trails. I can high-tail it down a rocky path, and enjoy doing so. So, I came in sec­ond place. Very excit­ing. It was­n't a big race, but my prize pack says oth­er­wise — new back­pack and water bot­tle are awe­some (and portable back­pack, and ther­mal headband).
I'm now going to lay out a bunch of excus­es for the ter­ri­ble pic­ture of me receiv­ing the prizes, but I still want to show it. I missed the actu­al win­ner announce­ments, but the race orga­niz­er kind­ly went to get my bag of prizes. So, clear­ly I was a lit­tle blown away, and tired, and look­ing into the sun, and some­one else had my camera.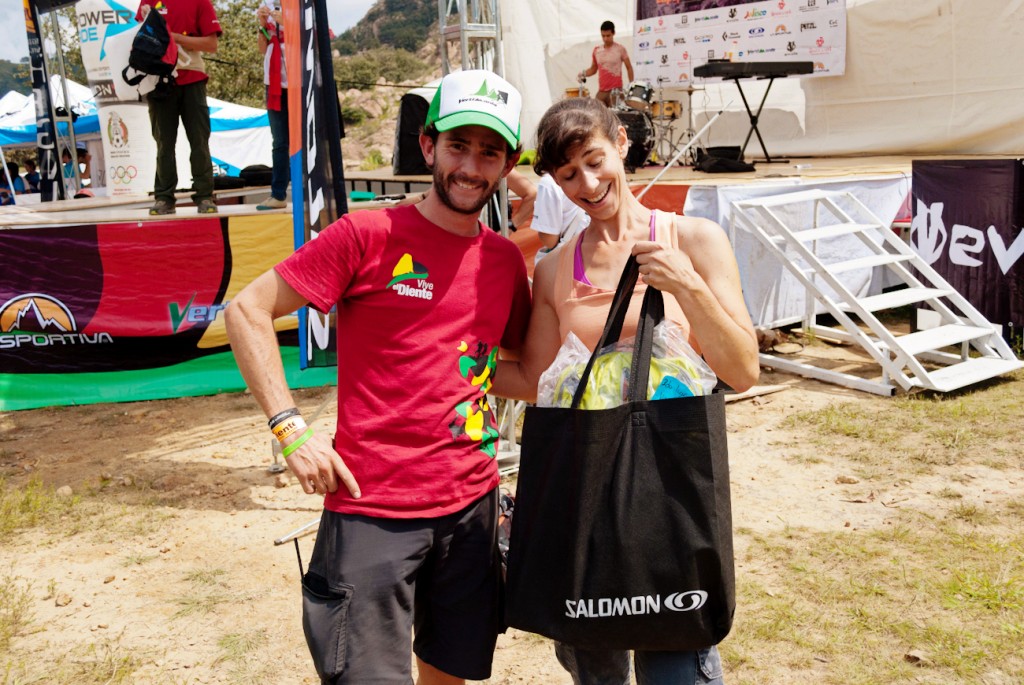 And then I had the rest of the day to boul­der a bit. Even just play­ing around on some easy stuff was a lot of fun. It poured last night, but I was pret­ty snug in my tent. My legs are a bit extra-cramped from not being able to stretch them out com­plete­ly, but total­ly worth it.
Final­ly, an homage to my hap­py cof­fee mak­er au nat­ur­al this morning.