At first, I was going to take a few shots because it was such an eye-catch­ing cir­cle that the lab drew on my arm, and why not? It's sur­pris­ing­ly hard to take a good shot of the near-elbow region of your own arm, so the chal­lenge was inter­est­ing. The oth­er spot out­side the cir­cle is where they drew blood from.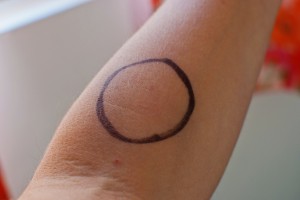 By the end of the first day, there was a lit­tle some­thing to see, which was inter­est­ing from a doc­u­men­tary per­spec­tive, but I was­n't wor­ried yet. Red­ness by itself (ery­the­ma) does­n't mat­ter, and isn't measured.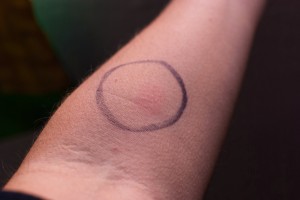 How­ev­er, it kept get­ting more inter­est­ing. Being the nat­u­ral­ly curi­ous type, I did some googling. These are image search­es that I WOULD NOT rec­om­mend doing, but they made be grow­ing­ly sus­pi­cious. After 48 hours, this is what a stan­dard tuber­cu­lo­sis skin test is not sup­posed to look like. I did real­ize from the image search that I should start adding a size ref­er­ence in the pho­tos. The red spot is actu­al­ly a lumpy spot, an indura­tion. uh-oh.
So, that would be a pos­i­tive. hmmm, yeah. If a 15mm indura­tion is a stan­dard pos­i­tive result for some­one with no known risk fac­tors, then 20 mm can't be good. It's not a good sign when the lab tech­ni­cian calls a spe­cial­ist to do the reading.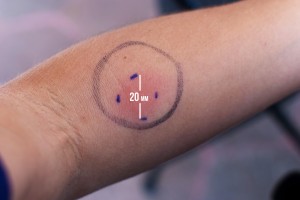 I had to start find­ing larg­er objects for size com­par­i­son after 72 hours. The pic­tures don't do the indura­tion jus­tice, but the lump is real­ly about the size of the red area. And it itch­es, which is appar­ent­ly unre­lat­ed, but still sucks. Also, it feels like a bruise, but maybe that's because I keep pok­ing it. I was real­ly good about leav­ing it alone until the lab mea­sured the result. Not so much now though.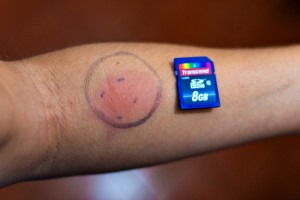 I still need a blood test to con­firm, but that won't hap­pen for a few weeks. Expect inter­est­ing updates, includ­ing per­haps a full chest x‑ray, reg­u­lar liv­er func­tion tests, and no fam­i­ly func­tions for the large major­i­ty of this year if I have to take the scary drug for 6–9 months as pre­ven­tive care that will pre­clude all imbib­ing of adult beverages.
And the impor­tant part, I am healthy. What this rep­re­sents, if it turns out to real­ly be a pos­i­tive test result is that I almost assured­ly have latent TB, where I have been exposed to the bac­teri­um, but I do not have the dis­ease. I am not con­ta­gious, nor am I sick. It's not even that like­ly that my lungs would explode in the future, but bet­ter to go ahead with the chemo­pro­phy­lax­is. (So many great new words.)
On the plus side, I have been promised a t‑shirt that reads "FUTB" by a friend, fol­low­ing a series of inside jokes, and I'm total­ly going to hold her to it if all of this turns out to be true.
Final­ly on the morn­ing of day 4, I think it's get­ting bet­ter, and I just real­ized how gross these pics are start­ing to look. Sor­ry. Hope­ful­ly it's not so bad with the small­er pho­tos. Bet­ter than the blis­ters though?