Well, my new Texas driver's license says that I am offi­cially a res­i­dent. It's nice to be back to read­ing a paper each morn­ing, includ­ing the cross­word in a lan­guage where I stand a chance. Sun­days seem to just dis­ap­pear into the big ones. Still, I didn't expect it to be like this…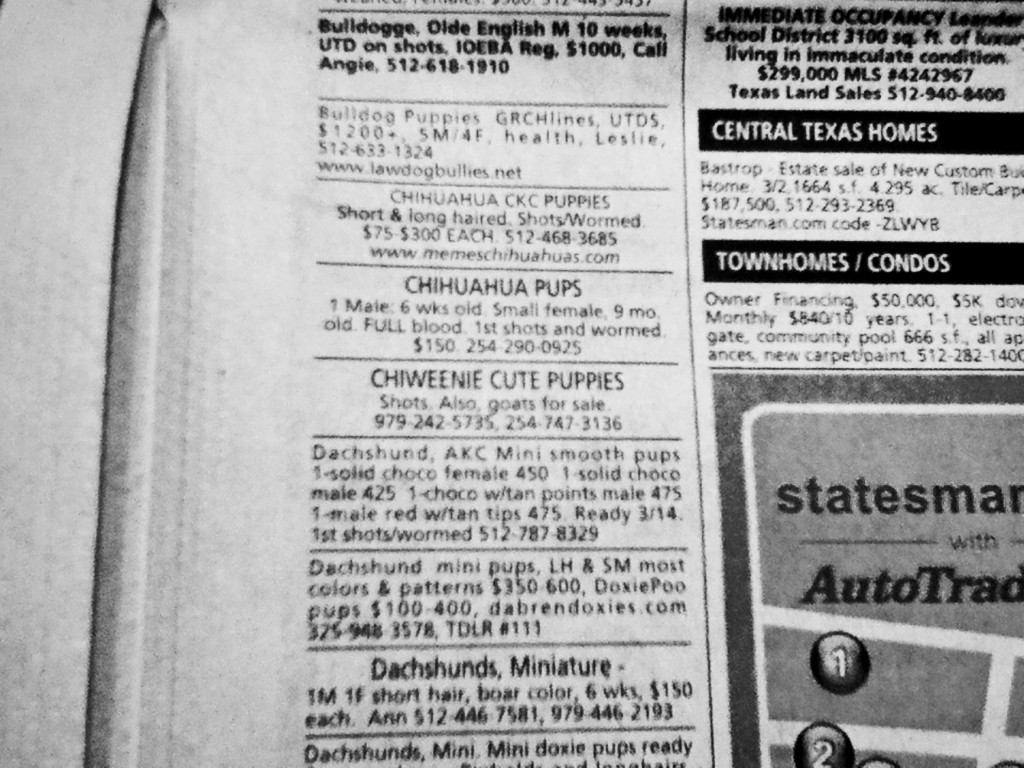 What is a Chi­wee­nie? Oh dear lord. Then I googled it. The poor things. That should not have been done. I'm resid­ing with an excep­tion­ally cute Shih-tzu who looks just like an Ewok and is becom­ing a bet­ter bed com­pan­ion each night. Although, I sus­pect that I am the one adapt­ing. I've become acquainted with Labradoo­dles and their cousins the Golden Doo­dles, whose name I object to on perversion-sounding grounds. Who wants a dog that sounds like a fetish? Why do they have to keep adding "Poo" onto the names? Dox­iePoo? Oh, ok, that one at least makes a lit­tle sense.
Also, goats for sale. Fol­low other links in the pic at your own peril. FULL blood. Makes me think the poor pup­pies are for snack­ing pur­poses. Stu­pid True Blood, I fin­ished watch­ing you months ago.
Some of the names are great, but more are just ridicu­lous: http://www.dogbreedinfo.com/hybriddog/internationaldesignercanineregistryidcr.htm
Bolonoo­dle? Really? Although, the Berne­doo­dle looks pretty great, unless you insist on call­ing it a Bernese Moun­tain Poo. That is some­thing you have to do some­times when camp­ing in the Alps.
This whole post is what hap­pens when you are expe­ri­enc­ing momen­tary job search burn-out. I've emp­tied enough brain cells to return to the task now. My apologies.