I looked up the def­i­n­i­tion of inge­nu­ity to make sure I was think­ing about it properly.
in·ge·nu·i·ty (n): the qual­i­ty of being clever, orig­i­nal, and inven­tive. (from googling "def­i­n­i­tion ingenuity")
Turns out I knew the def­i­n­i­tion. Know­ing the def­i­n­i­tion does­n't change why I was think­ing about it. I can believe that some­times I am each of the qual­i­ties, but not as much as I would like nor all togeth­er. For instance, I've got a bunch of craft projects start­ed for when I'm sit­ting at home try­ing to avoid respond­ing to email. How­ev­er, I'm just copy­ing a bunch of oth­er peo­ple's ideas, designs, and even tem­plates. It is still fun, but I've been lack­ing inspi­ra­tion late­ly. The pic­tures from Day of the Dead went up into their respec­tive posts (here, here, here, and here), but then I've had noth­ing else new. I look around this fas­ci­nat­ing place where I live, but it has­n't quite been enough to break my cre­ative inertia.
At my pri­ma­ry project, I've been giv­en a chance to refor­mu­late my assign­ment. How­ev­er, I look around and try to read a lit­tle about every­thing that is being done there, but I can't seem to put the pieces togeth­er. There must be oppor­tu­ni­ties there that I should be leap­ing into, but I don't even real­ly have the spark to search for them. I want to write about work on this blog more. I work every day, but my Peace Corps work is more of an inter­est­ing process than any­thing else at this point. I'm involved in a num­ber of (sec­ondary) projects but even after 6 months (!) in site, every­thing is still just warm­ing up, except for Niños y Niñas de México. That work is steady and great every Wednes­day help­ing the Otomí women in the Sis­ter's Stitch­ing Work­shop. As a num­ber of my posts have indi­cat­ed, I read a vari­ety of oth­er Peace Corps vol­un­teer blogs, and they show me that I should talk about work more, because not only do peo­ple ask me all the time "What are you doing?" but that is what I like to read about as well — along with why peo­ple Ear­ly Ter­mi­nate or are med­ical­ly sep­a­rat­ed, of course.
How­ev­er with all the projects that are just get­ting rolling, there are two main blocks to writ­ing about them. First­ly, they are not sole­ly my projects. I'm work­ing with oth­er peo­ple, and usu­al­ly on their ini­tia­tives. There­fore, I feel that it isn't my place to blog about them in these ear­ly stages because they are not my ideas. Haha, I just real­ized that this is sort of an intel­lec­tu­al prop­er­ty ques­tion. Damn, I keep stum­bling into Tech Trans­fer no mat­ter how hard I try to avoid it. The sec­ond block is that I don't know how to write about hav­ing a few meet­ings, and cer­tain­ly I don't know how to talk about these meet­ings with­out run­ning into the first block.
When these projects have more to them besides a few meet­ings, and I have talked with their pri­ma­ry archi­tects, then I will be back to write about them. What's fun­ny to me is that these meet­ings are usu­al­ly great and very inspir­ing, but very dif­fi­cult to blog about in an inter­est­ing way. For me, that means hav­ing inter­est­ing pho­tos. Nev­er­the­less, these meet­ings are why I keep join­ing more and more projects. I could be in trou­ble when they all ramp up.
Maybe I'm mak­ing this too hard though. I think that I should and can at least briefly describe the main projects that I am work­ing on:
1) Sis­ter's Stitch­ing Work­shop at Niños y Niñas de México, A.C. Every Wednes­day, anoth­er vol­un­teer  and I help at the week­ly work­shop where the woman are assem­bling hand-embroi­dered designs into greet­ing cards, book­marks, and occa­sion­al­ly oth­er items.
2) Teach­ing Eng­lish at El Puente de Esper­an­za where I'm part of a group of vol­un­teers that give sup­ple­men­tal class­es. This class is a lot of fun, and these teens are so moti­vat­ed that it is won­der­ful to work with them.
3) Since train­ing, I have been involved in the work­ing group for an inter­nal Peace Corps Mex­i­co vol­un­teer web­site where we com­mu­ni­cate, col­lab­o­rate, share infor­ma­tion in a way to hope­ful­ly pre­serve knowl­edge for future vol­un­teers, and cre­ate a tem­plate for PC pro­grams in oth­er coun­tries to do the same.
4) I feel very for­tu­nate to have been tapped to be a part in the ear­ly stages of an amaz­ing project that is aim­ing to orga­nize and use tech­nol­o­gy trans­fer for projects in rur­al set­tings. (and where the pic­ture of the ducks came from)
5) I'm also just join­ing a project that a cou­ple of oth­er vol­un­teers are get­ting going with a local non-prof­it that uses ama­ranth to com­bat mal­nu­tri­tion and pover­ty in a way that pro­motes sus­tain­able devel­op­ment in many sec­tors of society.
I think those are all, but if I'm for­get­ting some­thing then maybe I need to rethink my involve­ment in that project. There are a cou­ple of oth­er ideas that I have going with oth­er vol­un­teers and friends that haven't even cohered into forms that can be put on the list. Per­son­al­ly, also, I'm try­ing to at least main­tain my climb­ing, a con­stant project in my life, usu­al­ly striv­ing for improve­ment. I've been feel­ing that one slip­ping a bit late­ly. It was point­ed out to me that maybe I should let that pres­sure valve release a lit­tle, because I have been run­ning more than just a bit late­ly, so it's not like I'm in bad shape and I could get back into good climb­ing shape with a cou­ple of focused months.
When I work on these projects, I feel like a suc­cess­ful Peace Corps vol­un­teer. What I strug­gle with is my lack of pri­ma­ry project activ­i­ty. I'm hop­ing to be able to con­nect some of the projects to research being done at my cen­ter, but I'm just not sure that will hap­pen. Today though, I feel like I need an easy win, so I'm going to work for project #1 at the Christ­mas bazaar where they have a booth, after I have a quick meet­ing about project #4.
Tak­ing a look around, I'm try­ing to be inspired by the inge­nu­ity I see around me. Like the amaz­ing vari­ety of mobile food carts. I am going to keep pho­tograph­ing these when­ev­er I can. Seen below is a corn-roast­ing cart in Mex­i­co City and a banana-roast­ing cart in Oax­a­ca City.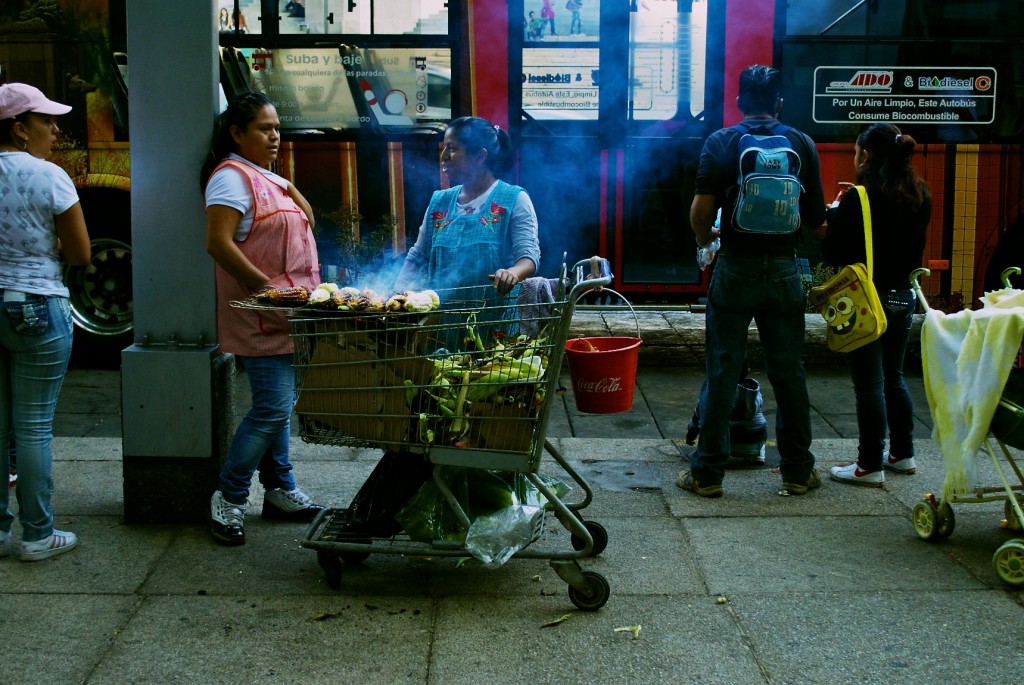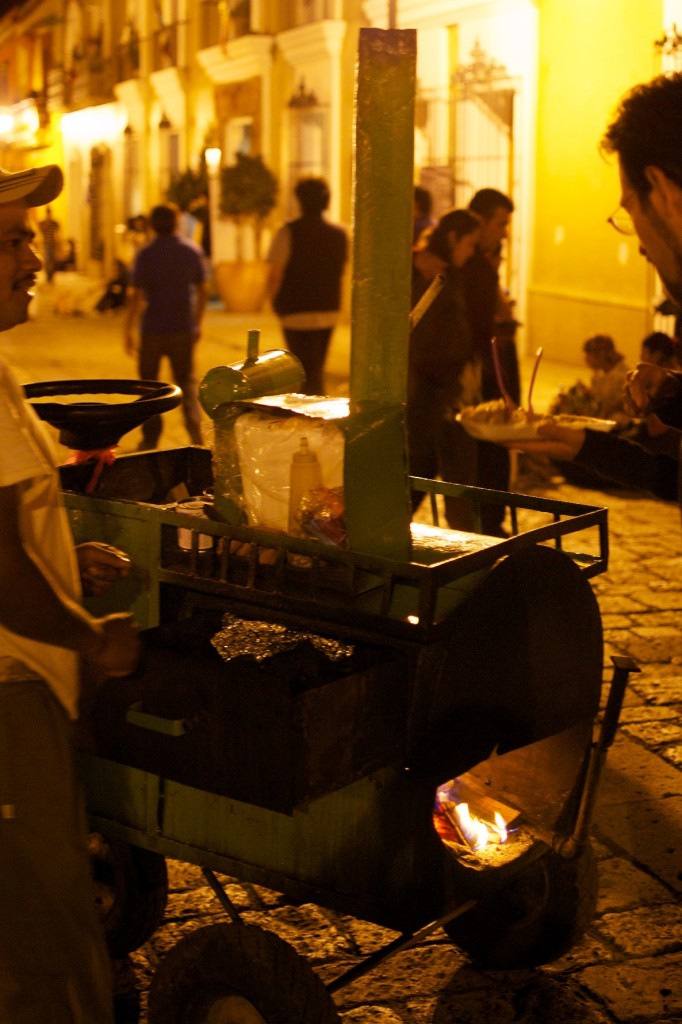 I keep adding tags to this post, because it touch­es on a bit of every­thing for me. At first, I was­n't sure if I should add this to the Essay cat­e­go­ry or not, but then I kept writ­ing so I think it qual­i­fies now. Thank you, as always, for vis­it­ing, and maybe even read­ing my blog. This has been my favorite project, maybe of all time.