Or, more specif­i­cal­ly, 85,591 including:
33,376 Turkey vultures
7 Swal­low-tailed kites
1 Mis­sis­sip­pi Kite
8 Norther Harriers
29 Sharp-shinned hawks
39 Coop­er's hawks
2 Gray hawks
5109 Broad-winged hawks
41,864 Swain­son's hawks
16 Amer­i­can kestrels
5 Pere­grine falcons
5135 Unknown raptors
Details here.
See: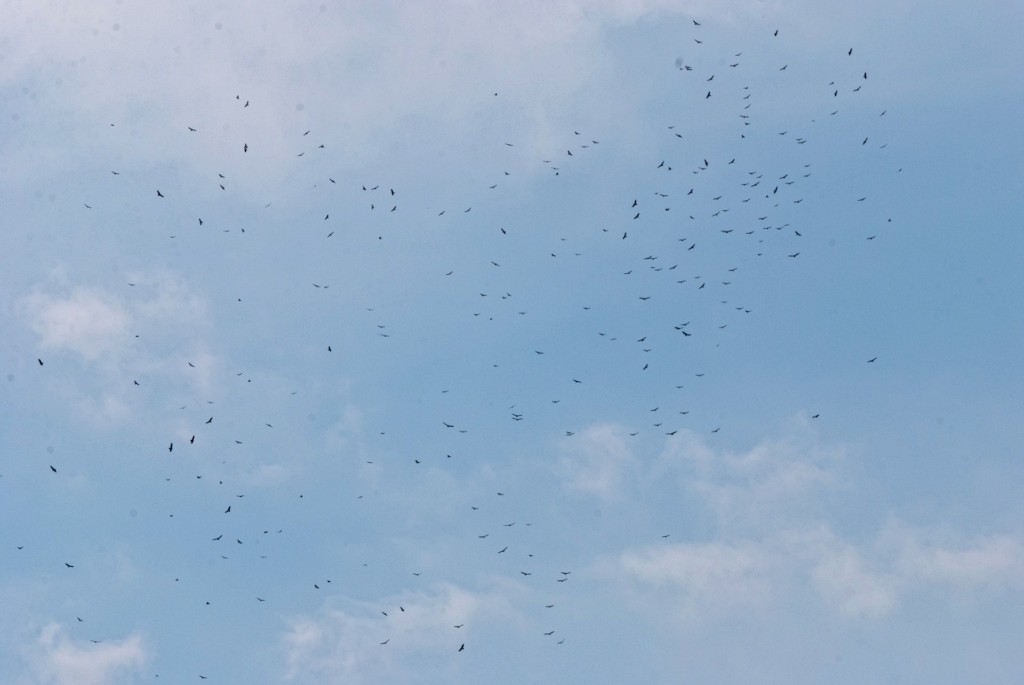 All of this was in just one day observ­ing the Río de Rapaces, or Riv­er of Rap­tors, in Cardel and Chichi­cax­tle, Ver­acruz, Mex­i­co. This area of Ver­acruz is under the great­est migra­tion path of rap­tors in the world. Through Sep­tem­ber, Octo­ber, and Novem­ber of every year, mil­lions of birds fly through this area. I'm not going to para­phrase all the won­der­ful arti­cles writ­ten about this, but instead pro­vide some links to more knowl­edge­able sources. The Pronatu­ra and oth­er orga­ni­za­tions doing the count­ing and con­ser­va­tion projects down there are doing won­der­ful work.
http://www.pronaturaveracruz.org/programa_rio_rapaces.php
http://clubdeobservadoresdeavesdepuebla.blogspot.mx/2012/10/rio-de-rapaces-veracruz-13-de-octubre.html
http://mag.audubon.org/articles/birds/river-raptors
http://www.bioweb.uncc.edu/bierregaard/raptor_river.htm
I tagged along with the Puebla bird­watch­ing club and a cou­ple of oth­er vol­un­teers — the same ones that orga­nized the amaz­ing trip to the Cañón del Sabi­no to see the mil­i­tary macaws, and the day trip around Mal­inche. So I always know that I am in for a won­der­ful expe­ri­ence, and I learn a lot about birds and bird­watch­ing every time. Also, it always worth the bus time, which was not insignif­i­can­t this time. The state of Ver­acruz is sur­pris­ing­ly dif­fi­cult to get to from where I live.
The coun­ters do an impres­sive job with their click­ers. Appar­ent­ly they are trained with com­put­er sim­u­la­tions and test­ed before becom­ing offi­cial coun­ters. Some­times they have 2 click­ers in each hand to keep inde­pen­dent counts of 4 dif­fer­ent species at the same time. We got to relax and just enjoy the view with cam­eras, binoc­u­lars, and spot­ting scopes.
The birds use ther­mals the gain alti­tude and form a ket­tle of rap­tors, or a vor­tex in Span­ish. I like the word vor­tex to describe the ris­ing, loose tor­na­do-like fun­nel of rap­tors. Then indi­vid­u­als will shoot off in the direc­tion of the next ther­mal. So, the vor­tex­es rise for thou­sands of feet and are con­nect­ed by a lit­er­al riv­er of rap­tors. This is up there with the mon­archs in terms of the mag­nif­i­cence of the nat­ur­al world. I'm not going to try to rank these Mex­i­co expe­ri­ences, but so far the top things, in no par­tic­u­lar order are: Mon­archs near Valle de Bra­vo, Mil­i­tary Macaws in Cañón del Sabi­no, flamin­gos and oth­er birds in Rio Lagar­tos, Isla Isabel, and now the Ver­acruz Riv­er of Raptors.
The day did not start well for bird-watch­ing, but the fore­cast held true and things cleared up around noon. Only a short while after we switched to the more inland observ­ing site at Chichi­cax­tle did vor­tex­es of birds and the riv­er of rap­tors appear, and it was worth the wait. Mag­nif­i­cent. The pic­tures real­ly don't do it jus­tice because of the dis­tance, but hope­ful­ly a few will give you an idea. The birds were rather far, so even at full zoom with the tele lens, the pics of the mass­es of birds tend to look like near­by swarms of insects. I had to try though. The spot­ting scope focused on a vor­tex made the ket­tle of rap­tors look like a tilt-shift snow globe of birds swirling and glid­ing upwards, and only with that amount of mag­ni­fi­ca­tion would I have any hope of even begin­ning to guess at the species. The vul­tures are dis­tin­guish­able from the hawks by size, shape, and flight style, but I still don't com­plete­ly get how they can do the count­ing. Lots and lots of practice.
I end­ed up with a lot of what I've tak­en to call­ing "desk­top pics" because they are large­ly emp­ty space with just a few birds, and there­fore per­fect for the desk­top back­ground image. How­ev­er, there was a great hum­ming­bird at the end the day, for which the experts are deter­min­ing the species and I will add it to the image cap­tion when known.